What to Pack
Packing for the Camino can be a person journey in itself. You may well be surprised with how little you need for this journey of the soul. I started out on the Camino with near 13 kilo on my back and after 200 km had reduced that to 10 kilo. A rule of thumb is carry no more than 10% of your body weight.
Weighing items on a kitchen scale can help you select the lightest options. You will find amply opportunity to purchase any item you are lacking on the way.
Remember to pack for the season you are walking.
Packing light will make your shoulders,legs and feet very grateful on the Camino.
The two most important investments you can make are a comfortable fitting backpack and light comfortable boots or a sturdy pair of trail runners will a semi rigid sole.
Back Pack
A medium size backpack of 35-50 L is adequate for warm weather whilst 40-60 L may be necessary in the autumn or winter. Be sure to measure your torso and choose a a proper size pack. Packs should have a stiff and wide hip belt to transfer the load to your hips and off your back and shoulders.
Footwear
Whilst the way has hard surfaces,rocky and uneven trails, it does have more paved surfaces than most which can play havoc on both feet an ankles. So a sturdy ankle supporting lightweight pair of boots or runners, fitted by a footwear specialist is paramount.
Also, pack lightweight sandals or thongs (flip-flops) for dubious showers and to wear as evening footwear. Your feet will love you for it!
Sleeping Bag
A lightweight sleeping bag (rated 40+F/5+C) will provide all the needed warmth for Spanish summer nights. temperatures may drop during the night from a high of 40+C at early evening to a low of 18+C during the night which was my experience for a some nights on my journey. Conversely,some pilgrims prefer to carry a sleeping bag liner to reduce bag weight a rely on Albergues (refugios) blankets or put on layers of clothing to keep warm.
In cold weather a three season sleeping bag is advisable (rated 15-35F/10-0C).
Purchase the lightest sleeping bag you can afford within the temperature range.
Clothing
Synthetic materials (polyester, nylon ) and merino wool will dry fast and is the best especially in wet or cold weather, in warm season choose lightweight breathable clothes that provide sun protection. A wide brimmed hat and sun glasses and a waterproof breathable rain coat or poncho is essential as is a cover for your backpack.
Essentials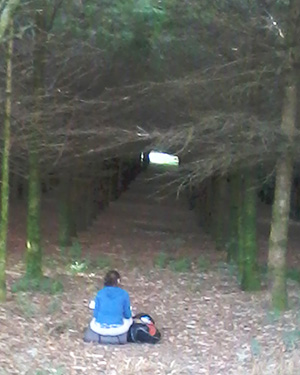 Backpack (35-40L)
Lightweight sleeping bag or liner
Guidebook
Headlamp or torch
Sun hat,sunglasses,sun screen and lip balm
Towel-lightweight
Water bottle  2 x I litre (spare 1litre)
Waterproof pack cover
Pocket knife (checked luggage).
Toiletries (see list)
First aid kit( see list)
Footwear and clothing
Boots or sturdy runners.
Thongs(flip-flops).
Hiking socks (2 pair)
Sock liners(2 pair)
Pants(1-2 pair quick drying zip offs or shorts)
Swimmers in lieu of shorts.
Short sleeve shirts ( 1-2 pair)
Long sleeve shirts(1-2 pair)
Waterproof jacket
Underwear(3 pair)
Hat
Insulated jacket or jumper.
Toiletries
Travel pack toothbrush and paste
Liquid biodegradable medicate soap ( use as shampoo, body soap and cloth washing)
Toilet paper
Hand Sanitizer (small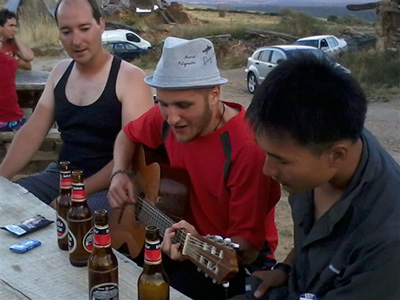 First aid kit
Band aids
Antibiotic ointment or iodine (can also be used to sterilise drinking water)
Medical tape
Anti inflammatory tablets
Antihistamine
Anti-diarrhea.
Blister treatment
Safety pins,
Small scissors (checked luggage)
Tweezers
Optional
Hiking poles, sleeping mat, pillow case
Portable line and pegs and lightweight
Personal items
wallet, earplugs, mobile phone and charger, camera, journal and waterproof stuff bags for keeping electronic valuables and clothing dry.